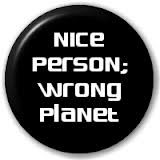 Sometimes it feels like that, doesn't it?
Truth is, Starfish, you are e-x-a-c-t-l-y where you are supposed to be. You choose this lifetime, these experiences and all those relationships to accelerate and enhance your growth.
No frowning, please. Lest you forget, this is a journey of consciousness.  And, yes, it can be bumpy, aggravating and down-right confusing. And still, you are here, knee-deep in Planet Earth.
Until the relatives show up, enjoy it all. Have fun. Be detached. Risk a little more. Love a lot.
And so it is from the Greater Galaxies.